Fresno State Police Department
Fresno State Police Department
Path of Travel Interactive Map (construction impacts)
Spirit, Service, Solutions
Welcome to the Fresno State Police Department. The men and women of this department are committed to providing a safe and secure environment that fosters collaborative partnerships and trusting relationships. We place a strong emphasis on Spirit, Service and Solutions. What that means to us is:
Spirit
The Fresno State Police Department takes pride in being a part of the Bulldog family. Our actions exemplify our school spirit. We will strive to make decisions that embody the spirit of the law, diversity, and excellence.
Service
We are committed to Service; professional service that fosters trust and confidence. Everyone at the Fresno State Police Department works to provide the highest level of service to our campus community in order to create a safe and healthy learning environment.
Solutions
As a part of the university community it is important for all to take part in community oriented policing and problem solving. We are committed to establishing strong community partnerships to identify solutions to campus challenges.
We at the Fresno State Police Department are proud of our profession, our department, our university and are committed to being engaged with our community.
Thank you for visiting our site and welcome to Fresno State!
Jennifer Curwick
Interim Chief of Police
Please read the reaction from Chief Watson and all California State University Police Chiefs in response to the tragic death of George Floyd.
From the CSU Chiefs - Systemwide Statement
CSU Chiefs Pledge to Implement 21st Century Policing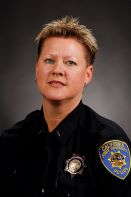 Jennifer Curwick
Interim Chief of Police
Quick Links
Title IX - Resources for Victims of Crime
CSU Active Shooter Safety Video
Annual Security Report (Clery Report) Website