University Travel Information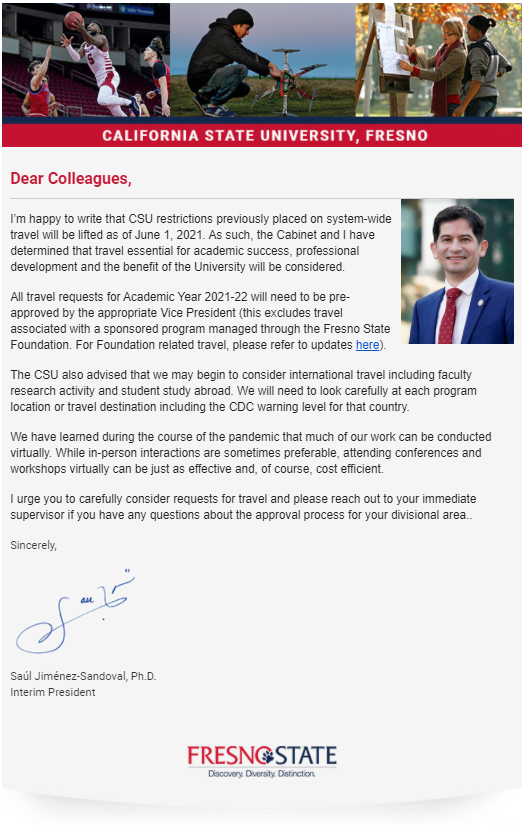 Airline Reservation Changes in Concur:
1. Any flight booked on or after October 4th will be subject to the following restrictions:
Only one change/exchange per ticket will be allowed in Concur; additional changes/exchanges must be done through a CalTravelStore travel agent. This applies to exchanges for all carriers (Southwest, United, etc.).
Southwest Airlines' Early Bird check-in will no longer be available to purchase in Concur. If desired, you may add Early Bird check-in directly with Southwest using a personal credit card.
2. All unused travel funds, including Southwest, will still appear in each traveler's Concur profile; however, you will now have to call the CalTravelStore to have an agent apply the Southwest travel funds to a new reservation – as is the current process with other airlines' travel funds.
3. Southwest Unused Travel Funds can no longer be applied during the reservation process in Concur.
4. Unused travel funds, including Southwest, will now be part of the monthly "Unused Tickets" report provided to you by CalTravelStore. Be on the lookout for the addition of Southwest Travel Funds alongside credits for other carriers in the same monthly report you already receive on the 18th of every month from CalTravelStore.
The California Attorney General's Office added the state of Ohio to the state-funded travel restrictions list effective September 30, 2021.
If you were authorized to travel to Ohio on or after September 30, 202, State funds cannot be used to pay for any part of the trip. Consequently, the travel reservations must be cancelled, or must meet one of the AB 1887 exceptions and must also be pre-approved by the University Controller, or funded using a private or non-state source.
As a reminder, funds appropriated by the legislature may not be used to pay for travel to any of the 18 states on the current list of banned states maintained by the CA State Attorney General as a result of Assembly Bill 1887. The current list of restricted states includes Alabama, Arkansas, Florida, Idaho, Iowa, Kansas, Kentucky, Mississippi, Montana, North Carolina, North Dakota, Ohio, Oklahoma, South Carolina, South Dakota, Tennessee, Texas and West Virgina, and is subject to change at any time.
Instructions for Approval:
Request approval in writing. Include in your justification:
The purpose of the travel
Why the travel cannot be completed elsewhere
Which exception in the Assembly Bill the travel meets and why (link below)
Send your request to Ben Hylton, University Controller, at bhylton@csufresno.edu
The following links serve as additional resources:
CSU Memo -Banned Travel States
Frequently Asked Questions on AB 1887 - CSU
Frequently Asked Questions on AB 1887 - US Attorney General
Assembly Bill 1887 State Discrimination on Travel
If a trip must be cancelled or changed, the traveler must make every effort to cancel/change any travel reservations. Fees incurred as a result of cancelling/changing a trip may be covered if the cancellation/change was work-related or due to unforeseen circumstances out of the control of the traveler. Written justification must be submitted and approved by the approving authority (see Travel Approval Guidelines).
Travelers who are unable to honor a reservation shall be responsible for canceling the reservation in compliance with the cancellation terms established by the vendor. The traveler must return any refundable deposits to the University.
Charges or lost refunds resulting from failure to cancel reservations, registrations, etc. shall not be reimbursed unless the traveler can show that such failure was the result of circumstances beyond the traveler's control.
The traveler shall be responsible for promptly returning for a refund any unused or partially used transportation tickets.
Cash advances must be returned immediately if a trip is cancelled or indefinitely postponed.
Funds paid on behalf of or reimbursed to the traveler for expenses incurred prior to the actual dates of travel should be returned. Refunds should be requested for registration fees paid directly to a vendor unless applied to another participant from the department. A non-refundable ticket associated with a cancelled trip must be used for the employee's next trip.
Any monies refunded to the University should be submitted by check payable to Fresno State and submitted to Cashiering Services.
For COVID19 travel advisories, click this link: http://fresnostate.edu/president/coronavirus/
If you have additional questions or need further assistance, please contact:
Contact Info

| Name | Email | Phone |
| --- | --- | --- |
| Marie Cuningham | | (559) 278-2911 |
| Virginia Nevarez | | (559) 278-2877 |
| CALTravelStore | Click for contacts, or call | (877) 454-8785 |