University Travel Updates
Travel Info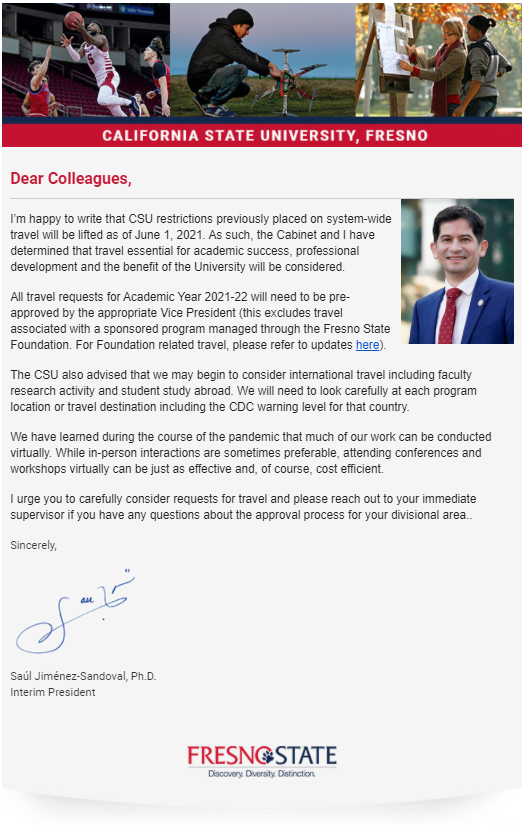 EFFECTIVE IMMEDIATELY, ALL INTERNATIONAL AND NON-ESSENTIAL DOMESTIC TRAVEL IS SUSPENDED UNTIL FURTHER NOTICE.
Travel to the entire country of China is not authorized. Please see the state department bulletin at: https://travel.state.gov/content/travel/en/international-travel/International-Travel-Country-Information-Pages/China.html. We continue to monitor the state department website as decisions are rapidly evolving and can change at any moment. If you have any questions, please contact system risk management at (562) 951-4580 or email Zachary Gifford at zgifford@calstate.edu
Effective July 1, 2020, California will restrict state-funded travel to Idaho as a result of two discriminatory bills signed into law in Idaho this year. The laws, House Bills 500 and 509, directly authorize discrimination against the transgender community. House Bill 500 repeals protections that enabled transgender students to compete on athletic teams consistent with their gender identity and House Bill 509 prohibits the amendment of birth certificates to be consistent with gender identity. The new restrictions on travel to Idaho are prescribed by law in California pursuant to Assembly Bill 1887 (AB 1887), which passed in 2016.
If you were authorized to travel to Idaho on or after January 1, 2017 and the travel will not end prior to July 1, 2020, then State funds cannot be used to pay for the travel to Idaho. Consequently, the travel to Idaho must be cancelled, or must meet one of AB 1887 exceptions and must also be pre-approved by the University Controller, or funded using a private or non-state source.
As a reminder, funds appropriated by the legislature may not be used to pay for travel to any state on the current list of banned states maintained by the CA State Attorney General as a result of Assembly Bill 1887. The current list of restricted states includes Alabama, Arkansas, Florida, Idaho, Iowa, Kansas, Kentucky, Mississippi, Montana, North Carolina, North Dakota, Oklahoma, South Carolina, South Dakota, Tennessee, Texas and West Virgina, and is subject to change at any time.
Non-refundable travel arrangements made prior to January 1, 2017, to any state on the list of restricted states (Alabama, Idaho, Iowa, Kansas, Kentucky, Mississippi, North Carolina, Oklahoma, South Carolina, South Dakota, Tennessee, and Texas), are permissible. A detailed written description of when the travel arrangements were booked and justification for such travel must be submitted with the expense claim.
The following links serve as additional resources:
CSU Memo -Banned Travel States
Frequently Asked Questions on AB 1887 - CSU
Frequently Asked Questions on AB 1887 - US Attorney General
Assembly Bill 1887 State Discrimination on Travel
If a trip must be cancelled or changed, the traveler must make every effort to cancel/change any travel reservations. Fees incurred as a result of cancelling/changing a trip may be covered if the cancellation/change was work-related or due to unforeseen circumstances out of the control of the traveler. Written justification must be submitted and approved by the approving authority (see Travel Approval Guidelines).
Travelers who are unable to honor a reservation shall be responsible for canceling the reservation in compliance with the cancellation terms established by the vendor. The traveler must return any refundable deposits to the University.
Charges or lost refunds resulting from failure to cancel reservations, registrations, etc. shall not be reimbursed unless the traveler can show that such failure was the result of circumstances beyond the traveler's control.
The traveler shall be responsible for promptly returning for a refund any unused or partially used transportation tickets.
Cash advances must be returned immediately if a trip is cancelled or indefinitely postponed.
Funds paid on behalf of or reimbursed to the traveler for expenses incurred prior to the actual dates of travel should be returned. Refunds should be requested for registration fees paid directly to a vendor unless applied to another participant from the department. A non-refundable ticket associated with a cancelled trip must be used for the employee's next trip.
Any monies refunded to the University should be submitted by check payable to Fresno State and submitted to Cashiering Services.
For COVID19 travel advisories, click this link: http://fresnostate.edu/president/coronavirus/
The California State University standard mileage rate for business travel occurring on or after January 1, 2021, will decrease from 57.5 cents per mile to 56 cents per mile. Miles driven for moving purposes will be reimbursed at 16 cents per mile, decreased from 17 cents per mile.
Contacts
travel_contact

| Name | Email | Phone |
| --- | --- | --- |
| Marie Cuningham | | (559) 278-2911 |
| Virginia Nevarez | | (559) 278-2877 |
| CALTravelStore | Click for contacts, or call | (877) 454-8785 |
Travel Links