Environmental Health, Safety, and Risk Management
Lamps
Please do not bring household generated lamps to campus! Your used lamps cost the campus money, but may be free for you to dispose of through special programs available to you the generator.
Locate a disposal resource near you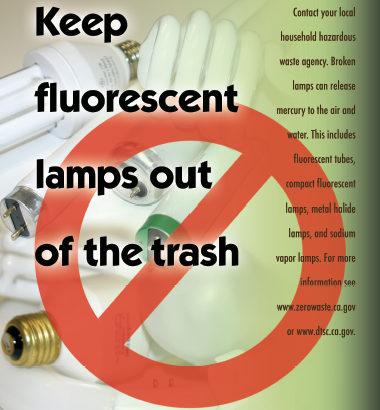 Campus Only
Current campus procedure for the collection of "Universal Waste - Lamps" is to:
Collect non-broken lamps in the OEM container (if you bought a new lamp use that box to house the old lamp).


If the lamp is broken contact EHS/RMS immediately for cleanup and disposal. A work order may be placed, but it is important to make it clear to the person taking the report the lamp is broken so it can be removed asap.

Label the container with the image below (click to print) or request a label from EHS RMS and one will be provided at no cost.
Attach the label to the container
Complete the date field (date first lamp is placed in container) and the generator. Place a check mark in the box labeled "Lamp(s)".
Accumulate batteries at point of generation for no longer than nine months.
Contact EHS RMS for any containers that have a start date approaching nine months from accumulation start.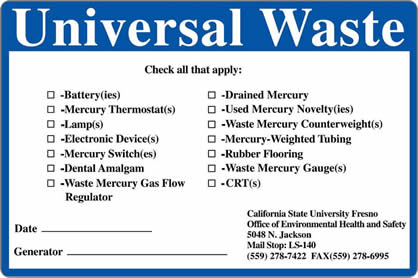 For larger lamps, such as 4' or 8' tube lamps the lamps must be stored in a manner that helps prevent breakage. Leaning the lamp up against the wall without protective outer covering does not meet this requirement. Contact EHS RMS as soon as these units are no longer useful and we will have them removed.
Damaged lamps shall be reported to EHS RMS immediately to prevent hazards or exposure.