Organizational Excellence
Learning Opportunities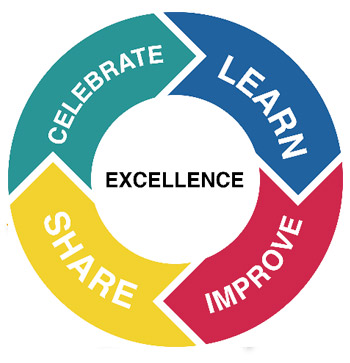 Professional and leadership development programs are designed to enhance skills and support ongoing career development for all employees. Our programs are designed to offer a holistic approach to employee development, cultivate work-life balance, nurture a culture of change and innovation and build organizational and individual capacities within the Fresno State community. We support efforts to pursue excellence as a learning organization committed to innovation, continuous improvement and wellness.
Workshops are classified into several learning tracks described below.
Navigating Fresno State: New to campus or unsure of Fresno State's policies and procedures? Learn the in's and out's of Fresno State and what you need to efficiently get things done around campus
Developing A Healthy U: Attend any of these workshops to learn tools to develop and maintain work-life balance. Topics are centered on the seven dimensions of Fresno State's Healthy U wellness model shown above.
Enhancing Your Technical Skills: Offered in partnership with the DISCOVERe hub and Center for Faculty Excellence these workshops focus on Microsoft Office, social media, helpful apps, and navigating Fresno State software such as Google Email, Box, Canvas and PeopleSoft.
Leadership Skills for Managers and Department Chairs: We are committed to helping managers, supervisors, chairs and leaders at all levels develop essential skills for success. Watch our monthly calendar for learning opportunities including our monthly Leadership Lunch and Learn series.
Training for Student Assistants: Organizational Excellence partners with the Career Development Center to offer learning opportunities for student assistants. Staff and departments on campus can refer student assistants to the Cafe to build professional and career readiness skills
Visit our Professional Development Calendar for a complete list of learning opportunities. Register on CSU Learn for any activity, event or workshop. Also you can review the Fresno State Training Policy here.

Interested in leading or promoting a workshop? Click here to submit your workshop information.
Fresno State encourages persons with disabilities to participate in its programs and activities. If you anticipate needing any type of accommodation or have questions about the physical access provided, please call us at 559-278-5330.
Save