Projects in Design
This project will construct 228 new apartment style beds. The first floor will provide a learning community and recreational spaces, as well as accessible housing units. The three upper residence floors are identical, which will include student housing units, shared study/gathering spaces, laundry facilities, and space for a resident advisor on each floor. The shared common spaces on each floor will foster student engagement and a sense of community. The outdoor hardscape and landscape areas will provide additional space for studying and recreation. The proposed project is currently designed to achieve Leadership in Energy and Environmental Design (LEED) Gold equivalent.
This project scope is to provide Baker Hall with a hydraulic elevator that will provide access to the upper floors of the building.
This project will beautify the McLane Hall east courtyard and will create sustainable landscape and site improvements.
Projects in Construction
This project will construct two covered metal canopies to accommodate two exterior art studios for ceramic kiln and glassblowing activities. Phase 1, constructing the Ceramic Lab is nearing completion.
This project renovates (2) classrooms in Peters building and one classroom at Campus Pointe through the Craig School of Business EMBA program.
The project will address the campus hot- and chilled-water generation and distribution piping network providing energy efficient and reliable heating and cooling to more than 25,000 students, faculty and staff. In addition to the central utility plant upgrades, BIG will implement renewable energy generation and energy conservation measures (ECM), with a target to provide more than 30% energy savings to Fresno State during the 33-year contract. For additional information, please refer to: Central Plant Replacement
This project is anticipated to start in the fall. It will renovate and modernize the Research Winery Lab, brewery/distillery lab, cooler, restroom/shower and covered exterior prep area. Structural upgrades, reroofing and fire alarm modifications will also be addressed. This project renovates approximately 3,600 square feet.
This project supports the new location of the Richter Center at the third floor of the University Student Union. The new 2,070 sf space will provide a much larger complex to accommodate the community service-learning programs. The target construction completion is December 2023.
The construction for the new LCOE Student Center for Excellence will start in the fall semester. The center will be located adjacent to the south entrance of Engineering East, resourcefully converting the exterior overhang into a welcoming interior space. The renovation will convert the lobby to a conference room, offices, and a student lounge area. This project is being funded by LCOE endowments (Hamparson and Columbia Memorial).
The Lynda and Stewart Resnick Student Union dining services will include the opening of three new amenities: Taco Bell, The Habit Burger Grill, and Toss-N-Chop (Soup/Salad).
This $16 million project will start construction in the fall and will comprehensively upgrade the building mechanical system, LED lighting and the fire alarm system. This will be a multiphase, multiyear effort to minimize impacts for our academic programs.
Three Temporary Modulars: NOE Supporting Documents
This project updated and beautified the existing interior courtyard. The space provides students opportunities to relieve stress and anxiety, essentially contributing to their success. Programming will include therapist meditation sessions, counseling group sessions, a quiet space, yoga, Pilates and wellness activities.
This project is the first phase of a campus wide Fire Alarm Upgrade to eleven (11) buildings. The first phase will provide the head-end infrastructure and upgrades at the Police Department.
Completed Projects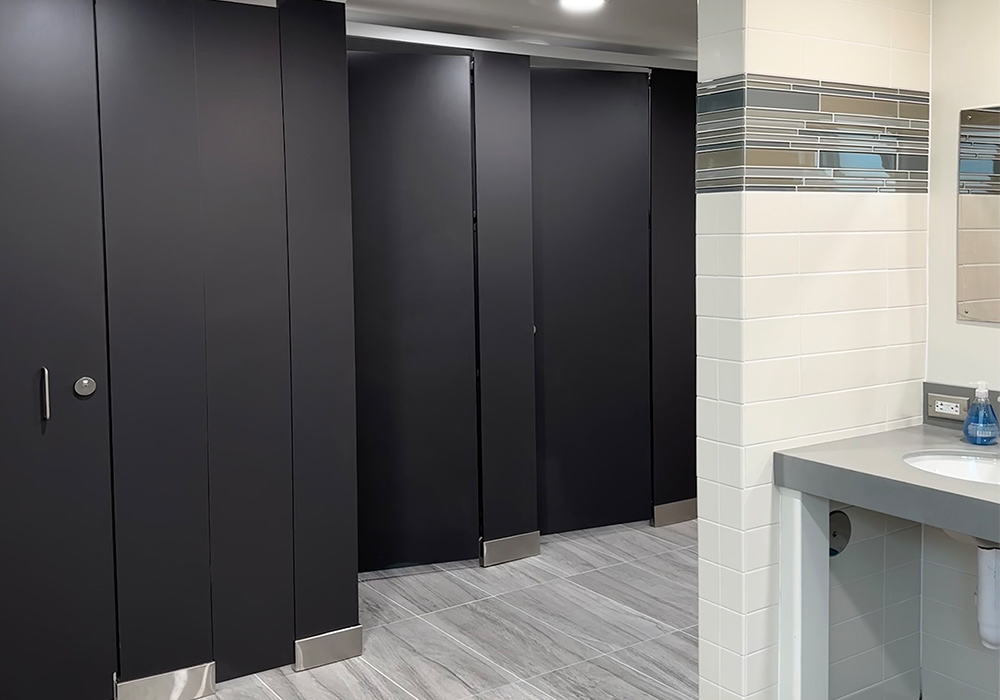 This project addressed the ADA modernization upgrades to the restrooms and showers on all three floors of Baker Hall. This was funded by the Association (Auxiliary).
Phase One addressed the west wing that included the three multi-stall all-gender bathrooms of all three floors, the resident advisor suite, and the two single use all-gender restrooms on the first floor. Phase two will consist of modernizing the east wing in the Summer of 2024.
| Project Summary | |
| --- | --- |
| Completed: | 2023 (Phase One) |
| Project Budget: | $7.8 Million (Baker Hall, Homan, and Graves) |
| Delivery Method: | Design-Bid-Build |
| Architect: | SVA Architects |
| Contractor: | Exbon Devleopment Inc. |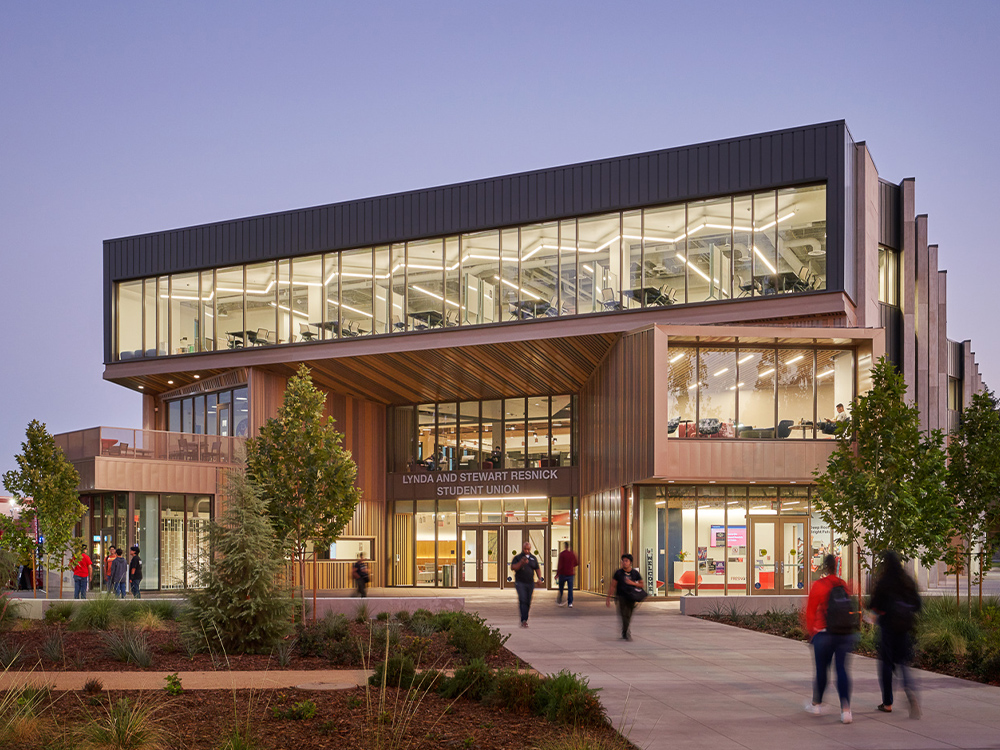 Design and construction of the 84,000 sf Lynda and Stewart Resnick Student Union, sited on approximately 3.5 acres.
This building includes a multi-purpose ballroom, an indoor WOW space for students, gather, and dine, retail dining, meeting rooms, and administrative offices.
Lynda and Stewart Resnick Student Union has been selected to appear as an Outstanding Design in the 2023 American School & University Architectural Portfolio.
| Project Summary | |
| --- | --- |
| Completed: | 2022 |
| Project Budget: | $60 Million |
| Delivery Method: | Collaborative-Design-Build |
| Architect: | Harley Ellis Devereaux |
| Contractor: | McCarthy Builders |