Frequently Asked Questions
During the spring 2017 semester, the California State University Chancellor's Office issued a systemwide policy requiring all campuses to become tobacco-, smoke- and vapor-free. Fresno State is committed to providing a clean, safe and healthy environment for our students, faculty, staff and visitors. We appreciate your support and cooperation as we move toward creating a healthier environment for everyone on our campus.
This policy applies to students, faculty, staff, visitors, contractors and vendors.
The policy goes into effect on September 1, 2017.
Yes. The tobacco-, smoke- and vapor-free policy is in effect 24 hours a day, seven days a week.
The policy includes all Fresno State-owned, leased, rented or maintained property such as buildings, facilities, sidewalks, roadways, parking lots and grounds. (Bulldog Stadium and the Save Mart Center are also included in this policy.) In addition, the policy includes all university-owned, leased or rented vehicles. California state law already prohibits smoking in all indoor areas and outdoors within 20 feet of public buildings (including colleges and universities).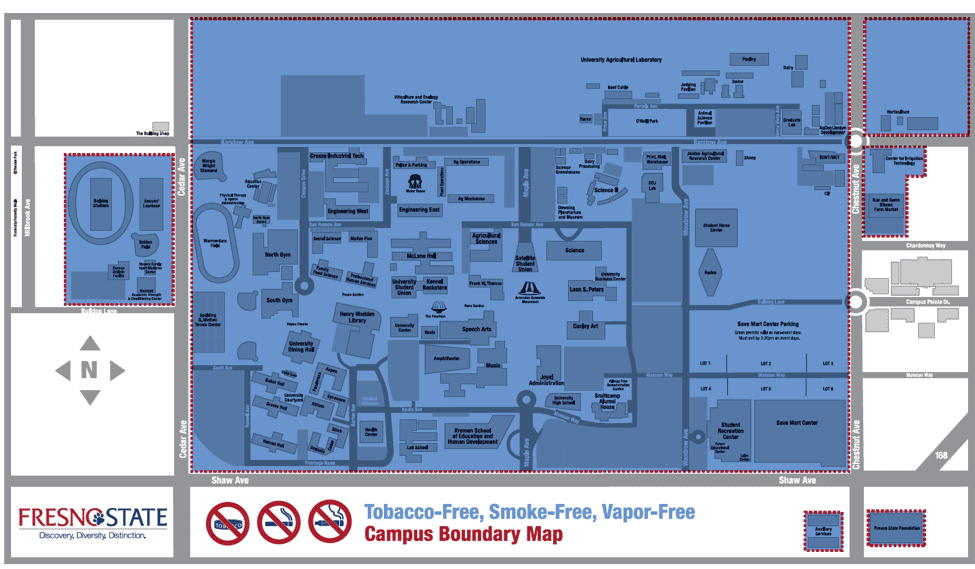 Yes. All events that take place on Fresno State property, including tailgate gatherings and outdoor events, still fall under the tobacco-, smoke- and vapor-free policy.
Yes. Federal law overrides state law. Fresno State is an institution that supports financial aid (federal money) for students, therefore, Fresno State follows federal law. Medical marijuana cards are invalid at Fresno State.
Every effort will be made to announce this policy using various Fresno State media outlets, including campus email messages and Fresno State's Campus News. Informational resources are distributed at the Faculty and Staff Assembly, New Student Convocation, University Courtyard and Kennel Bookstore. Additional information on Fresno State's Clear the Air Initiative.
Yes. Tobacco-, smoke- and vapor-free campus policies can reduce tobacco use and exposure to secondhand smoke, which provides health benefits to the entire campus community. Tobacco use is the leading cause of preventable death and disease in the United States, and according to the U.S. Surgeon General, there is no safe level of exposure to secondhand smoke.
No. The use of designated smoking areas are now prohibited. Smoking, vaping and the use of tobacco products are not allowed anywhere on campus property.
No. Smoking, vaping and the use of tobacco products are not permitted in your personal vehicle (both inside and outside), if the vehicle is located on Fresno State property. A vehicle must be moved off-campus if you want to smoke inside the vehicle.
No. There is no Constitutional right to smoke, vape or use tobacco. Tobacco users are not a category protected under the Equal Protection Clause of the Constitution, nor is tobacco use a protected liberty under the Due Process clause of the Constitution.
Smoke/tobacco use may be permitted under the following circumstances:
Smoking in university-sponsored theater and dance productions (by production participants), student-authored or sponsored scenes, showcases or workshops produced as part of the department of theatre as well as ceremonial campus events may be authorized by the President or designee only when a required part of a specific performance. This includes smoking and/or tobacco use for traditional ceremonial activities of recognized cultural and/or religious groups.

The use of nicotine cessation products regulated by the United States Food and Drug Administration for treating nicotine or tobacco dependencies is permitted under the terms of this executive order.

Institutional Review Board approved research on tobacco or tobacco-related products.
Students, faculty and staff who see individuals smoking on University properties may respectfully inform these individuals of the University policy prohibiting smoking, vaping and tobacco use anywhere on University properties. There is also an option to report non-compliance online at: www.fresnostate.edu/adminserv/smokefree/smokingreportform.html
Hostile and/or violent interpersonal conduct directed against members of the Fresno State community requesting that individuals comply with the terms of this executive order will not be tolerated and will be enforced under systemwide or campus policies, including but not limited to workplace violence policies.
Fresno State community members are asked to help create a tobacco, smoke and vapor-free environment using community enforcement. Community enforcement relies on individuals to educate one another about the smoke-free policy at Fresno State. Campus police will not be responsible for citing individuals for violating this policy.
We hope civility and respect for others will guide all of us during the transition toward a tobacco-, smoke- and vapor-free campus. We realize this policy may be challenging for some smokers and tobacco users, but we hope that smokers and tobacco users will respect the rights of their fellow members of the Fresno State community to breathe smoke-free air. We also hope non-smokers who remind violators of the tobacco-, smoke- and vapor-free policy will do so with courtesy and civility.
Signage about our tobacco-, smoke- and vapor-free campus will be placed throughout Fresno State grounds and buildings. Information on Fresno State's Clear the Air initiative is accessible to all campus visitors.
All ashtrays have been removed from campus because they are a receptacle for a product that will no longer be used on Fresno State property.
Properties adjacent to Fresno State set their own policies regarding smoking. We ask Fresno State students, faculty, staff and visitors to help maintain a positive relationship with our neighbors that border the campus. We encourage you to be courteous when going off campus to smoke by disposing of tobacco products and packaging in appropriate receptacles and being aware of others nearby who may not wish to be exposed to secondhand smoke.
Fresno State encourages all individuals to consider their safety while on or off campus. Medications such as the nicotine patch, gum, lozenge, nasal spray or inhaler are options that can be considered to meet nicotine needs without leaving campus and putting yourself at any risk.
Money set aside in your flexible spending account can be used for your out-of-pocket expenses toward smoking cessation paraphernalia including counseling with a doctor's prescription.
An increased number of colleges and universities in California are adopting 100 percent smoke and tobacco-free campus policies. Strong tobacco use campus policies have found great success throughout California. The majority of colleges that have adopted tobacco- and smoke-free policies have done so at the request of their students and with leadership from the Associated Students.
Cigarettes - 83.5%
Electronic Smoking Devices (e-cigarettes) - 88.9%
Cigars, little cigars, clove cigarettes - 88.8%
Smokeless tobacco - 93.8%
Source: American College Health Association-National College Health Assessment
(ACHA-NCHA-II, Spring 2016, Fresno State University)
For comments or questions regarding this policy, members of the campus community and the community at large are encouraged to visit the Fresno State smoke-free website at www.fresnostate.edu/adminserv/smokefree/ or contact the Office of Environmental Health & Safety and Risk Management at 559.278.7422.