Administration and Finance
Parking
Existing Parking
Over seventy acres of land are currently occupied by parking in about twenty surface lots. Parking is a resource vital to the University; thus much has been invested in its management, upkeep and access. Planned growth in student enrollment, faculty and staff numbers threaten to increase demand for parking. Meanwhile, congestion and conflicts between vehicles and pedestrians have reached unacceptable levels, notably by Lot Q on Barstow Avenue.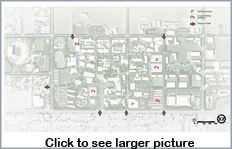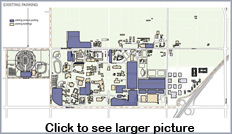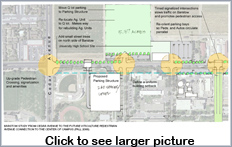 Demand for campus parking normally peaks during the late morning, with a lesser spike occurring in the early afternoon. A third peak, although considerably less extreme, occurs during evening classes. It is during the evening periods that occasional conflict occurs raising the demand for on-campus parking significantly: early evening weekday football games and high demand events at the Save Mart Center tend to conflict with normal campus activities.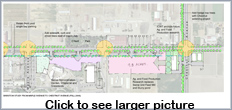 There are sectors of the campus where the level of parking is taxed to the limit by normal daytime campus demands. These peak demand locations are in student lots A, and J on the eastern side of the campus, and Lots L and Q to the northwest, and Lots E and G to the southwest. The most heavily used faculty and staff parking is in Lots D, M and O.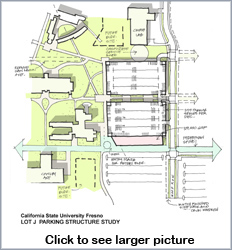 Points of access and egress from parking lots are a source of pedestrian vehicular conflict. Some, such as Lot Q, pose serious safety threats that demand decisive action. It is proposed that most of the parking on Lot Q will be transferred to a multistory garage to be built on Lot K. This and other changes will prompt re-evaluation of the functions and operations of Barstow Avenue as a private campus street east of Cedar Avenue.
Future Parking
Increasing enrollment in the years ahead threatens to increase demand for parking on campus: already a scarce resource although it occupies a fifth of the land area. An objective is to accommodate parked vehicles close to the occupants' destination, preferably out of sight and sheltered from the weather.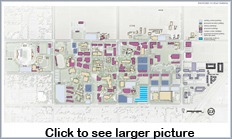 Furthermore, this should be accomplished economically in terms of land used and funds expended. The strategy by which this can be accomplished is in two parts. The first is to reduce the proportion of students who drive to campus; especially those who drive alone. The second is to consolidate large numbers of parked vehicles into carefully located parking garages configured to optimize function and economy, including safe and efficient access and egress.
Parking garages are expensive to build, but the trade-off is in scarce land formerly occupied by surface parking which becomes available for other uses, and in control of traffic entering and exiting the campus at peak periods. Points of access and egress at parking garages are critical to their location, providing an opportunity to function pro-actively with the streets and intersections around the campus, and to minimize conflict with pedestrians and cyclists. Another important locational factor relates to those campus buildings and spaces served by each garage: each must be in a place that will not become necessary for future expansion of academic or campus life facilities.
New parking facilities will be located where they can meet the normal demands of increased daytime campus needs and the slightly different demands of evening classes and special events. Integration of other uses within new parking structures will be important, especially where they border busy walkways. Integrated ground floor uses might include an on-campus public transit center, an information kiosk for visitors, a variety of commercial campus operations and offices.
Shading of surface parking lots and the top decks of parking garages is desirable both for keeping parked cars cool and reducing heat build-up (heat island effect) in the paving or building. A conspicuous opportunity is to construct arrays of photovoltaic panels above parked cars to supplement the university's sustainably generated power supply, as demonstrated on Lot V. Alternatively; the top deck of a parking garage may be paved or planted for recreational uses - with suitable perimeter protection.
Related links