Administration and Finance
Landscape
Existing Landscape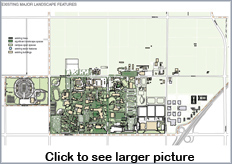 As one approaches the campus from south or east,the first impression is of a wooded enclave with parking lotsand buildings within. From the north, the first impression is of theordered rows of crops and orchards on the farm, followed by avenerable rank of street trees on Barstow with parking, a mix of large and small buildings, a water tower and more trees beyond. Arriving from the southeast, the Save Mart Center and parking lots fill the views of those arriving off the freeway. Once inside the campus, buildings, trees, and the spaces formed by them deliver a strong first impression of the university.
Future Building Uses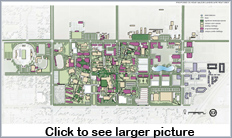 The landscape master plan, guided by these four expectations is intended to match the sense of place conveyed to visitors with the character and aspirations of the university. It is also intended to enhance the outdoor environment to make it more comfortable and to accommodate the needs of those who use it.
Related links