The Arboretum at California State University, Fresno
California State University, Fresno campus gained official arboretum status in the spring of 1979.
An arboretum is a place where plants, especially trees and shrubs, are grown for exhibition and study. It is a living collection of woody plants in a park like setting or an oasis in the urban "sea." It is also the sum of many different examples of landscaping.
For our campus an arboretum is:
the peaceful serenity of stately conifers and grass that defines the Peace Garden
the individual trees on the Maple Mall that are memorials to the American submarines and their crews lost at sea
the small Shade Garden near the Memorial Fountain
the Allen Lew Memorial Grove near the Thomas Administration Building
the Rose Garden and Iris Garden
It also includes the hidden spots to sit in the shade and relax, entry landscaping, and the Allergy Free demonstration garden behind the Smittcamp Alumni House.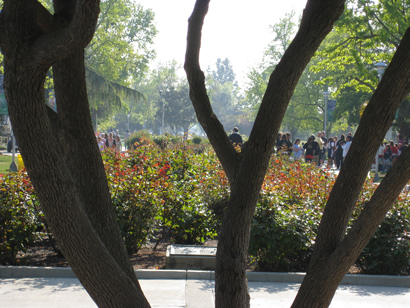 The Arboretum at California State University, Fresno State is open to the public and visits are encouraged. An interactive tree guide is currently under development for some of the thousands of trees on campus. In all, over one hundred kinds of trees will be identified on the interactive map, which can turn a leisurely stroll into an education in tree life.
For more information feel free to contact Tim Breshears with Facilities Management or John T. Bushoven, Ph.D. in the Department of Plant Science.
Name
Area
Tim Breshears (Chair)
University Grounds
Josh Bushoven (Curator)
Faculty Member
Grace Borbe
Facilities Planning Designee
Wendy Cooper
College of Science and Mathematics
Instructional Support Technician
Calliope Correia
Jordan College of Agricultural Sciences and Technology
Instructional Support Technician
Yolanda Doub
Faculty Member
Marcy Gatzman
Staff Member
Amanda Mortimer
Faculty Member at Large
Michael Mosinski
Friends of the Arboretum
Ronald Nishinaka
Friends of the Arboretum
Frederick Peinado Nelson
Faculty Member
Jake Ward
Staff Member
Katherine Waselkov
Faculty Member at Large
Stephanie Marquez
Student Intern
Vacant
Consulting Landscape Architect
Esther Gonzalez
Staff Support

Related Links